Memperkenalkna ManPro
Memperkenalkan ManPro
Manajemen Proyek :
Sebuah keilmuan dalam hal perencanaan, pengorganisasian, pengelolaan (menjalankan serta pengendalian), untuk dapat mencapai tujuan-tujuan proyek.
Proyek :
Sebuah kegiatan yang bersifat sementara yang telah ditetapkan awal pekerjaannya dan waktu selesainya (dan biasanya selalu dibatasi oleh waktu, dan seringkali juga dibatasi oleh sumber pendanaan), untuk mencapai tujuan dan hasil yang spesifik dan unik.
Tantangan utama proyek adalah dengan batasan ruang lingkup pekerjaan, waktu pelaksanaan pekerjaan, dan anggaran pekerjaan. Kemudian berkembang, ditambahkan batasan keempat faktor keselamatan dan lingkungan.
Tools: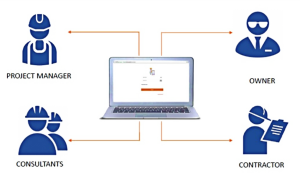 ManPro adalah suatu perangkat lunak (software) yang digunakan sebagai aplikasi untuk menerapkan manajemen proyek untuk mengelola dan mengendalikan pelaksanaan suatu proyek oleh manajemen perusahaan dan kelengkapannya.
Banyak software yang berbasis internet yang bisa digunakan sebagai tools Management Project, baik yang berbayar maupun yang bisa diperoleh secara gratis di Web.
Manpro adalah suatu platform online:
Sistem informasi proyek terpusat di satu tempat yang dapat di-custommize sesuai kebutuhan setiap proyek
Tim proyek dapat menyimpan dan mengakses seluruh dokumen proyek secara mudah, bahkan dengan menggunakan perangkat telepon genggam
Status dan perkembangan proyek dapat dipantau dengan mudah oleh semua pemangku kepentingan di proyek tersebut
Seluruh komunikasi dan koordinasi antar tim proyek, dapat terdokumentasi
Software MANPRO ini dapat digunakan untuk :
Penyimpanan untuk berbagai dokumen proyek
Upload foto aktivitas proyek
Memfasilitasi proses pengajuan dan persetujuan aktivitas proyek
Memudahkan audit
Memudahkan untuk monitoring multiple proyek
Strengths and Weaknesses of ManPro
Increase transparency and professionalism in project implementation by monitoring:
Work execution
Safety
Progress
Quality, and
Logistics
Setiap proyek dapat mempunyai sistem proyek (menu/sub-menu) yang unik.
User group dengan pengaturan hak akses setiap user yang unik.
Juga memiliki kelebihan lain untuk berfungsi sebagai software dalam mengelola dan memonitor serta mengendalikan program portofolio dalam perusahaan.
Namun, ada suatu kekurangan yang harus dilengkapi agar dapat digunakan guna melakukan perhitungan finansial dan menghitung working budget sejak dari analisa harga satuan.